iCreate Property Proposal Pricing
Discovery Session and Content/Branding Workshop
When clients look to partner with iCreate for the sales and marketing of their entire project, our clients benefit from starting the engagement with a discovery audit and a content and branding workshop.
The workshop would include:
2 hour workshop, including the expertise of our copywriter and both principals of iCreate  (and potentially 1 other staff member at no extra cost).
We'll then spend up to 5 hours of copywriting to polish the results of the copy into positioning statements and copy that will be used across all of the collateral.
We'll also look at who your target customers are, as well as the style and tone that will work with this group of customers. And we'll research and recommend ways in which you can differentiate from similar competitor projects.
We will then present our findings along with a strategic media roadmap and further costings for all recommended creative and digital deliverables that will connect and engage with your audience, and convert to high quality leads.
---
Naming of the project
We will research and look deep within your project to find connections that create a prominent property development name. We also take into consideration the location, history and ensure your development stands out competitively. Includes domain search.
3 x names + 3 x rationales (three rounds of included revisions, if required, based on your feedback)
---
Logo and Branding
Once the name is established, we will craft, sketch, explore and refine a logo. The logo will be designed to bring the vision of the project to life and ensure that the brand elements create a look and feel in harmony with the project and the right appeal for your target audience.
3 x custom logo concepts (three rounds of included revisions, if required, based on your feedback)
Brand guidelines document (including colour breakdowns, font names and copyright ownership, supplied in PDF format)
---
Aerial Still Photography
Art direction and production supervision. Post production on supplied images. Still aerial photography to be used for hero location map in marketing material and signage. Providing you with a series of shots that includes your sites location and key angles that show the site and featured amenity.
– want aerial video footage as well? Please let us know and we can provide a quote.
---
Photography Full Day Pickup Shots (No Talent)
On a location-based pick-up shoot, we are looking to get photos that really promote the local area, that highlight the retail, transport, education, medical and recreation close by.
Photography in your marketing material will make a huge difference to prospects buying into your off-the-plan vision. With nothing to touch and feel, it pays to build trust with real photography and leave the cliche stock photography to your competitors :)
Option 1
Half Day Photography
Option 2
Full Day Photography
Option 3
Full Day Photography
+ iCreate Art Director

Shot List / Storyboard
Pre-shoot art direction
1 x photographer half day
Deliver high res and low res files

Shot List / Storyboard
Pre-shoot art direction
Location Scout
iCreate to obtain approvals, access for locations
1 x photographer upgraded to full day
Post-production of digital assets
Deliver high res and low res files

Shot List / Storyboard
Pre-shoot art direction
Location Scout
iCreate to obtain approvals, access for locations
1 x iCreate Art Director on location directing photographer full day
1 x photographer upgraded to full day
Post-production of digital assets
Deliver high res and low res files

$3,120
$5,430
$6,540
---
One Day Photography (with talent)
Location scout, licence application, preparation of the shot list and art directors mood board, liaise with location stakeholders and negotiate access and permissions, and pre-production of digital assets,
 1 x 10 hour day Art direction
1 x 10 hour day lifestyle shoot with talent
Hair stylist and Makeup artist (including assistant) x 1 day
Wardrobe stylist x 1 day
Wardrobe Allowance
Film licence fees, props and incidentals for the shoot
---
Talent Fees and Royalties.
Talent usage to be in South East QLD for 3 years across online, press, brochures and outdoor.
Talent fees and royalties TBC once the talent is cast and booked. Fees can vary from agency to agency and from person to person depending on experience. We suggest allowing between $2,500-$4,500 / per person / day.
---
Video Production
Video can be extremely effective.  I don't need to convince anyone of the power of video.  We are all drawn to video on websites like a magnet.  While some are disappointing and soon paused, we are all too happy to choose a 40s video to explain a concept or offering rather than scour pages of text any day.
Quality video is an extra investment, and not always feasible or appropriate depending on budget.  However for many projects understand the opportunity for increased engagement or conversion can be well worth it.
iCreate has a great video production partner, and are often involved with story-boarding and creative direction.  If you think video might be a good fit for you, then we can certainly help.
Shot on the same day as the staff on the still photography will mean we can utilise the photographer and hair and makeup.
Research and create video storyboard, work with client to achieve approval. On the day, art direct photographer and videographer, manage the post-production of digital assets and project manage the smooth running of all parties involved.
2 x video crew, and 1 x iCreate staff for one full day of filming, including the camera, easy rig hire, operator and equipment.
Post Production and outcome of the videography taken will be 1 x approx. 2-minute video: The production includes motion graphics, royalty free music, colour grading, sound mix and includes 2 x client reviews.
---
Project Hero Brochure
Design and layout will include artists' impressions, location and lifestyle imagery, a location map illustration and key selling features of both the location and amenities. We will also include floorplans, floorplates, schedule of finishes, and 4 pages of client supplied research. Stock photography from Shutterstock included. Approx 48 pages.
---
Project Investment Summary
To assist the your sales team when presenting our project to hot prospects, iCreate will design a book that brings together all of the key selling features, maps and research. We will provide the final file as a digital pdf. Approx: 20 pages.
---
Brochure Printing
iCreate recommends using quality finishes and stock that reflect your quality brand. As we move through the design process, our recommendations will become clearer, your brochure page count becomes defined and we can commence a production quote for you. To manage the quality and success of your brochure, we recommend you consider letting us manage the production, consultation time with the printer, sourcing paper stocks and managing sourcing quotes from our tried and tested quality printers, this will also include press checks and print shop inspections. For this reason, we prefer to charge you for the value of this process, and not mark up any external print costs.
---
Sales Display Suite – Design Only
For when you want to ensure your sales suite has impact as soon as your prospect enters the door. 
Initial site visit: Prior to commencement. We visit the sales display to gain a detailed understanding of your needs.
Moodboard: We brainstorm the creative direction and present our inspirational mood board, which provides an indication of the proposed design direction.
Internal Design: We prepare a design concept for the sales suite's internal space, presented in a 3D perspective.
External Design: We design the externals to attract attention and achieve maximum brand recognition. This includes banner flags, display entry, site dressing.
Content Creation: We create content, as required, including copy and headlines to support high impact visuals.
Project Management: We lead the project from beginning to end – initiating, planning and executing tasks with your stakeholders – with the project objectives in mind.
Finished Art: We finalise all creative and modify images or specs as needed to suit the final deliverables. Artwork will be delivered as high resolution in a dropbox link, either to yourself or your nominated supplier.
Final site visit: We perform a final quality inspection and sign-off of works undertaken.
Sales Funnel Track: We determine the sales track and prospect engagement flow (Bronze package: client proivdes this to iCreate).
Internal and External Design (Upgraded): We advance the design over a larger space with the preparation of dynamic placement of mixed elements. These could include but are not limited too, wall decals, 3d letters, frames, wallpaper and more (Bronze package only includes basic placement or full wall decals).
Furniture Placement: We determine ideal positioning for all furniture – desks, coffee tables, couches, display models etc. Client to purchase and source our recommendations.
Feature Lighting: We identify opportunities where the placement of feature lighting will enhance the setting.
Touch Screen Technical Advice:  If applicaple: we provide advice on which technology is best suited to the type of experience you are looking to achieve with an iCreate sales app including touchscreen models, electrical requirements and computer selection. Note: Sales app design and development quoted separately
Room Design: We review the available space and provide recommendations on changes to walls / addition of timber screens to ensure best flow is achieved.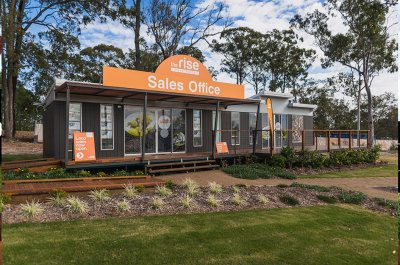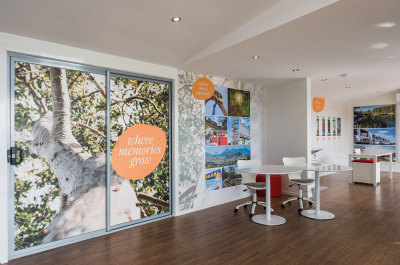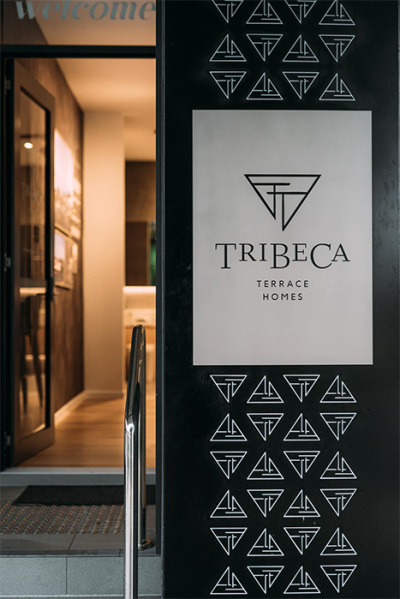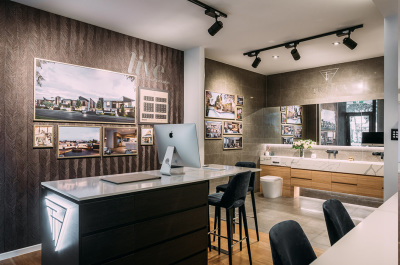 ---
One Page Website / Lead Capture Page Options
---
CRO (Conversion Rate Optimisation) or Split Testing
Can help increase the amount of enquiry a landing page generates. Includes:
Creating a second similar variation with different hero imagery and/or headline messaging. (up to 2 hours dev work creating variation page)
Setting up a split test in Google Optimise, running for 1 month, reporting results and elevating the winner.
*Split testing can be repeated multiple times, to test different theories.
**iCreate can quote more comprehensive CRO plans including multivariance spit testing. Enquire for more information.
---
Email Marketing (EDM)
iCreate will design a persuasive eDM that will engage and encourage users to click. Produce web optimised graphics and convert to HTML web sliced file.
Add plain html text where required and upload to clients system. Databases supplied by client/sales agent.
Price does not include the costs of sending the campaign. This will be charged at cost and added to the final invoice. The cost is $7.00/campaign + 1.4c per recipient

Direct Mail
Design engaging direct mail to highlight your project and drive enquiry – We will recommend a size and strategy for cut through.
**Printing and Distribution not included and will be quoted separately once distribution list is determined**